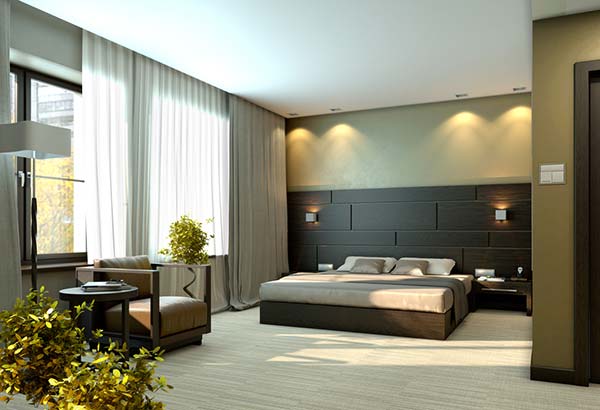 AJ Design install luxurious bespoke bedrooms, created exclusively for you.  What could be more appealing than a beautiful, relaxing place with everything you want within easy reach and the perfect bed to help you calm down and let go at the end of a tiring day?
We work from the design stage to delivery, considering all the available options that might enhance your bedroom.   With unmatched attention to detail, we hone every aspect of your bedroom to meet your needs without fuss or undue disruption.  Your new bedroom will work in harmony with your house ensuring that comfort, tranquillity and calm are at your fingertips.
Your bed and other bedroom furniture are major components of how a room is finished.  We also have a vast range of storage options which can help you maximise the space you have available.  We source and build bespoke bedroom furniture which totally complements the style and tone of the room.  You can be sure that whether a piece of furniture is purchased and used as it is, customised, or is entirely unique, it will be durable, high quality and stylish.
Bespoke Luxury Bedrooms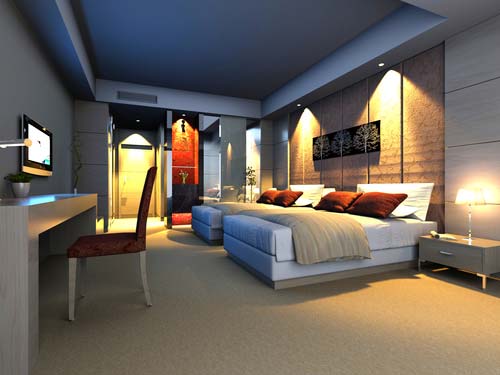 When we design your bedroom, we put as much thought into the finishing surfaces, materials and textures as we do into the shapes and furnishings.  We create a visual feast with real atmosphere, whatever your preferences.  You can rest assured that our concept to completion service means just that.
Many luxury bedrooms incorporate an en-suite bathroom, shower or wet room to offer complete privacy and convenience around the clock.  Our team includes Gas Safe fitters and plumbers. Working seamlessly with our designers, they will create a bathroom that matches the design and feel of your bedroom.
Naturally we are able to complete your luxury en suite bathroom in any style or material, from modern high gloss finishes to the ultimate in traditional wooden finishes.  If you can describe it, we can create it.  Find out more about our luxury bathrooms here.
AJ Design use high-quality materials and construction techniques, to ensure that your custom furniture and features,. are as durable and smooth in operation as they are beautiful.
You will find our friendly and approachable team easy to work with and committed to efficient and accurate work.  We treat your home professionally and with courtesy.  Above all else, we are experienced, skilled craftsmen which means that our team put equal effort and skill into every job.
Get in touch.
We have the shopfitting experience, know-how and flair!


From Concept To Completion
Let us bring your ideas to life!